SHID-6030 Security Hologram Hot Stamping Foils
Regular price
$985.62 USD
Regular price
Sale price
$985.62 USD
Unit price
per
SHID-6030 is a Security Hologram Hot Stamping Foil in Stocks with variable sizes for selling. SHID-6030 has multiple security features including, 
1. Tamper proof
2. Micro text
3. Wording scale (wording size changeable when changing view angles)
4. Flip flop
5. Text moveable
6. Rainbow color
7. 2D/3D matrix
By using a hot stamping machine, the optical image from security hologram foil can be transferred to various materials, such as paper certificates, stickers, plastic PVC cards, and fabrics.

After the hot stamping process, it is like a permanent existence. This security hologram image can't be lifted up or removed. So that it can effectively protect the brand, documents, IDs information from unauthorized access.
Effect after hot stamped on PET film,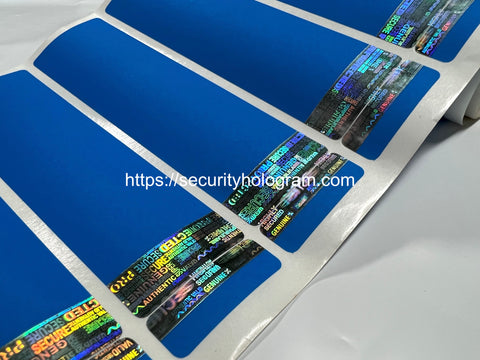 Share