WIND AND SPIRITS AUTHENTICATION
Smart Anti-Counterfeiting and Consumer Engagement System to Grow Your Global Business.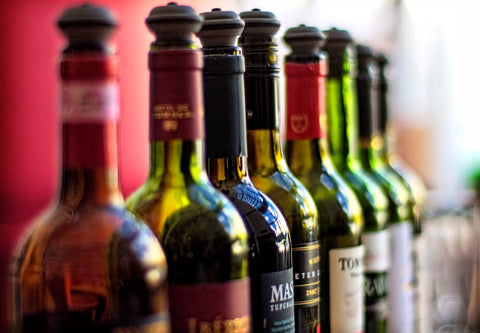 Security Hologram® Solutions combine three important products and services to develop a competitive advantage around the world.
1. Label design with anti-copy features
2. Secure QR codes, consumer engagement & analytics
3. REALabel support services
Security Hologram® Solutions are integrated and designed for wine industry to help:
• Eliminate loss from counterfeiters: Innovative security features and strategies, will make counterfeiting difficult or impossible.
• Increase consumer engagement & behavior analytics: Wide range of proven consumer engagement options customized to local requirements and customer behavior analytics.

• Value-added support services: Innovative support services to address current and future counterfeit threats to brands.
Outstanding Integration of Best of Breed Security Features

Security Hologram® provides valuable and comprehensive protection via exclusive features that are applied in banknotes printing and confidential document printing, comprising of Security Hologram® QR code, Security Graphic Design & invisible product marking with Security Hologram® Taggant. These all features can be integrated into the REALabel for enhancing product protection, facilitating authentication and motivating customer engagement.
Exquisite Graphic Design – Inspiring Your Customers

Graphic designs are widely used to identity branded products nowadays. Combining Security Graphic Design into Vino REALabel, it not only helps brands to enhance the visual perception of a product by displaying its elegant and exquisite patterns (e.g. guilloche, relief and latent), but also provides an additional security level against counterfeiting.
Covert QR Code with Multiple Customer Engagement Options

Equipped a double-layered Security Hologram® QR code with REALabel, it allows customers to view the general message through generic QR reader but only inspectors can see the secret message via dedicated application. After scanning the QR code, it allows customers to authenticate their products quickly, then, this leads customers to a certain landing page, e.g. product information and discussion page. Through increasing more interactions with customers, it helps to generate more sales.
No Room for Parallel Importers of Wine and Spirits

Security Hologram® Taggant Ink is the disruptive technology which is a unique class of security ink for printing invisible marking on products. It contains covert and forensic features which only can be authenticated through using our own detectors while it can be served as a unique marker that ensures exporting specific type and quantity of wine to particular destinations. In fact, it can be served a court evidence if necessary.
Value Added Services
Rental Services: Security Hologram® Taggant HSD

Security Hologram® also offers a convenient and user-friendly authentication method with multiple outputs, including sounds, light and vibration. Through using our own Security Hologram® Taggant Detector, inspectors just need to press a button nearly the REALabel that enables them to realize their goods' authenticity in a flash.
Hosting and Reporting Services: Supply Chain Traceability

The Security Hologram® Hosting and Reporting Service is designed to create true value for its brand owners where all the relevant data is gathered in real-time and consolidated for further analysis. Therefore, they can use those information for analyzing the customer behavior in order to develop an effective marketing campaigns for generating sales.
Consultation Services: Professional Team with Relevant Expertise

Security Hologram® is not just a supplier of anti-counterfeiting technologies, we listen, care and communicate to our customers in order to understand their objectives and challenges. We likely positions ourselves as a business partner for every clients' success by providing one-stop solutions. With our professional team, we are pleased to help our clients for achieving their business goals. 
Call Us! Let's Create Your Most Suitable Solutions!

Security Hologram® can be equipped with various modular security features. Security Hologram® can be customized for easily application and integrated into you labelling process and Wines & Spirits supply chain requirements.
You May also be Interested in…
• Security HologramT® Taggants
• In Product Protection
• Security Hologram® Pigments
• Security Graphic Design
• Security Hologram® Taggant Detector HSD
• Security Hologram® Lock
• Security Hologram® GEO
• Wine & Spirits Labels