Fully Custom Heat Laminate Security Hologram Pouches
The Heat Laminate Security Hologram Pouch size, security hologram image and security features can be fully customized for you. Please contact our sales team at sales@securityhologram.com to get professional proposals, artworks and quotation.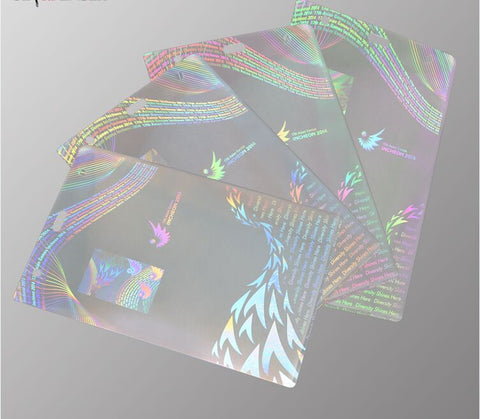 Holographic Laminate Pouches
These hologram lamination pouches are made of  PET (polyester film) as the substrate, and usually adopts double-layer paired with single-sided sealing symmetrical envelope structure. 
After being laminated with the holographic pouch, the certificate is rigid, not easy to crack, and has the advantages of moisture resistance, fading resistance, tamper resistance, and long-term storage. 
Generally, the front layer of laminating pouches adopts physical optical anti-counterfeiting design, which has good transparency and does not affect the display of certificate information. The fluorescent security ink can also be printed on the back layer. At the same time, it has a flexible size, simple certification machine, and other features. 
Most paper card documents use this holographic laminating pouch for security protection after sealing, ID Cards sealing after printing. Widely used for conference documents, pass documents, representative cards, interview cards, duty certificates, permits, business licenses, etc.

| Features of Hologram Laminate Pouches |
The hologram laminating pouch produced by our company mostly for big size hanging type badge, used widely in large activities, meeting places, and the pass for the venues.
At present, our company has cooperated with more than 100+ government projects, including the 2008 Bejing Olympic Games, 2018 Pyeongchang Olympic Games, Buenos Aires 2018 Youth Olympic Games, National IDs & Driving License. 

Optional thicknesses and sizes of Holographic Laminating Pouches
| | | |
| --- | --- | --- |
| Size(mm) | PET+EVA (Thickness in mil) | PET+EVA (Thickness in micron) |
| 54X86 | 1.5 mil | 38.1 micron |
| 70X100 | 3 mil | 76.2 micron |
| 95X135 | 5 mil | 127 micron |
| 110X170 | 8 mil | 200 micron |
| 130X190 | 10 mil | 254 micron |
| 175X225 | 20 mil | 500 micron |
| 216X303 | 25 mil | 635 micron |
| 303X426 | 30 mil | 800 micron |
| Holographic Lamination Pouches Gallery |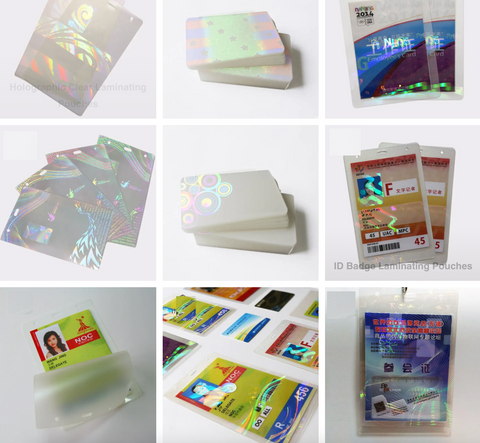 | Using Advice of Holographic Laminate Pouches|
| | |
| --- | --- |
| Operational environment | The lamination temperature is 130°C – 150°C, speed is 10mm-15mm/S. Ensure inner core material, thickness, size before sealing, pouch size bigger than inner core, each edge 5mm at least. |
| Storage environment | 20°C – 30°C, Humidity 45%-60% |
| Executive standard | GB/T 16422.2-2014 |

Application CasesPacking & Delivery
| Problems and Corresponding Solutions of Holographic Lamination Pouches |
Questions
Reasons
Solutions
Foggy white spots
Temperature not reached set data
Operate after laminator reach the temperature
Set temperature not enough
Set temperature to required for corresponding lamination pouch thickness
Bubble
Too high temperature
Set lower temperature
Laminator roller with impurities
Clean roller to ensure NO impurities
Hologram pouch with wrinkles
Too high temperature
Set lower temperature
Laminator roller is uneven
Check roller is flat
Pouch not placed flat
Pouch placed flat and put pouch into laminator
Not laminated
Low temperature
Set higher temperature
Four sides not laminated or bubbles at the blank
Laminator roller pressure is not enough
Tighten roller pressure
Low temperature
Set higher temperature
| Hologram Lamination Pouch Price |
The lamination pouch price is different based on various sizes, colors, design, and security features requirements. The exact price depends on the below details. Please send us your requirements.
| | | | | |
| --- | --- | --- | --- | --- |
| Size | Thickness | Pattern | Quantity | Security Level |
| Yes | Yes | Yes | Yes | Yes |
If you have specific requirements of size, thickness, pattern, and security level, please send an inquiry, we will quote you the exact price ASAP.
Step 1: Confirm the size.
Step 2: Remit your artwork, ideas, texts, and files for our evaluation. If you don't have image in proper format, we will convert it for you.
Step 3: We will send you artworks for approval to create a Master Hologram for your first 2D/3D Custom Security Holograms order. These holograms may include your logo, text, symbols as well as any other information in dimension layers mastered and registered to your name.